Does it generate so little STORJ for you?
Good,
I've been with STORJ for several months and the truth is that it's even a shame how little it generates xD...
I don't know if it's just me but wow... Here's a screenshot from last month... 0.64$... (No retention 2$)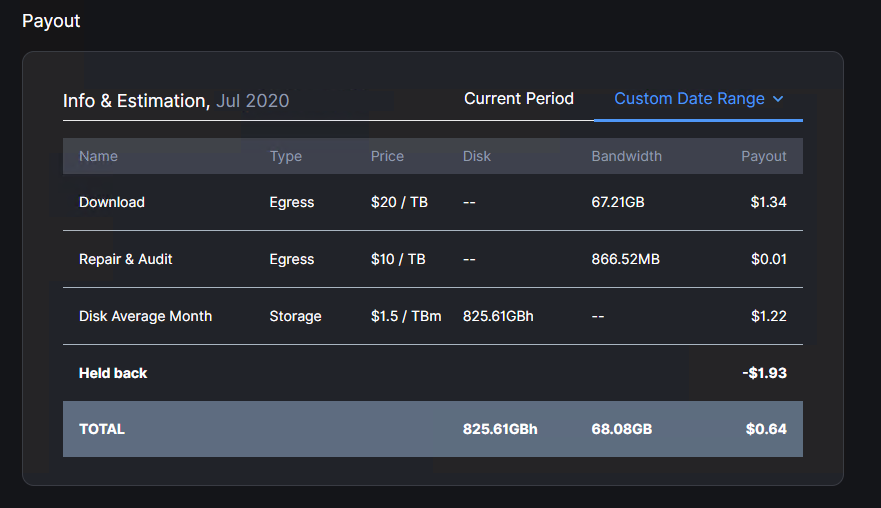 I have assigned 800GB of hard disk and contracted symmetrical 1GB at home... (The PC is wired and turned on 24/7, it only restarts due to windows updates).
Any recommendations to increase income...?
Hard disk I could put a 500gb hard drive doing raid and that but being a laptop I have no way to connect it (I'm not sure if I can raid safely by connecting it via usb...)
Any recommendation is appreciated.
a greeting
Topic starts
Answered : 05/08/2020 5:59 pm
Hello, and that this month of July has been good 😀
I put a screenshot of how this month of July has gone for me, with a 2.7TB node, and a 100MB connection, for comparison and if it serves as a reference 😀
Answered : 07/08/2020 1:58 pm
In my opinion, the problem is the size of the hard drive. Your upload/download speed is optimal.
I believe that StorJ hardly assigns you traffic due to the storage capacity of your equipment, since the speed of your line is the best.
Good luck with the node.
Answered : 11/08/2020 3:27 pm